Adult Dance Classes in Maidstone
Learn to Dance Bachata
Join us every Monday from 7.30pm @ MuMu's Boogie Lounge for Bachata dancing in Maidstone, Kent.
Open to everyone* – Learn to social dance Sensual Bachata (Bachata Moderna) in a structured course by Daniel & Desiree even if you have never danced before. Check out the latest dance craze and learn from Zero to Hero in 2019!
Beginners are absolutely welcome and you do not need to bring a partner, just make sure you read and understand our Code of Conduct.
*Over 18 only at some venue.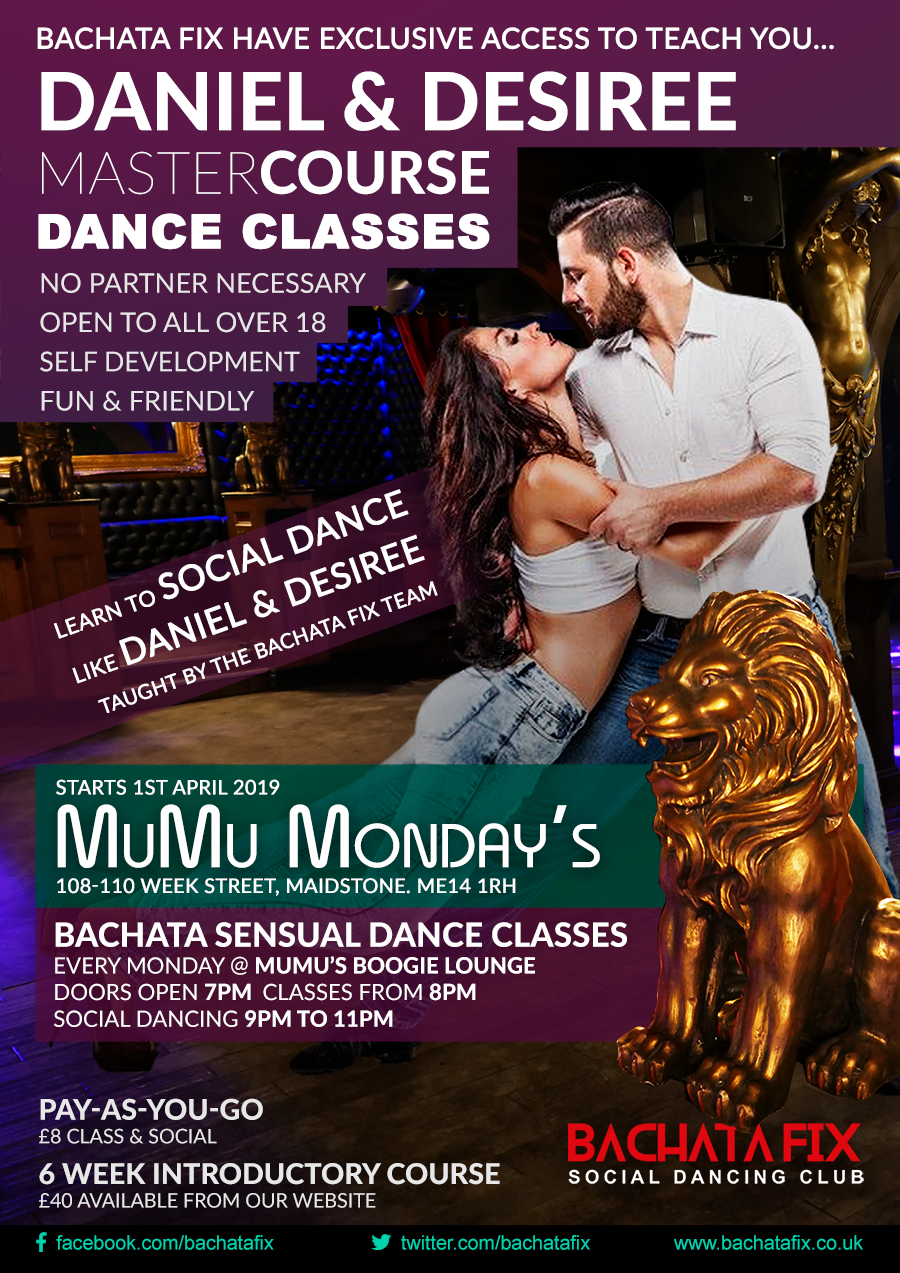 Address
MuMu's Boogie Lounge
108-110 Week Street, Maidstone
ME14 1RH
Contact the Venue
Tel. 01622 669800
Bachata Fix's Lesson Structure
We have a unique lesson structure developed to accelerate your learning and understanding of Bachata Moderna.
Our weekly classes are structured to help people learn with Bachata moves broken down into levels and each lesson focuses on a single concept:
| | |
| --- | --- |
| Lesson 1 | Basic Steps & Hip Technique |
| Lesson 2 | Turn Patterns |
| Lesson 3 | Footwork Variations 1 |
| Lesson 4 | Footwork Variations 2 |
| Lesson 5 | Walk-Through Turns & Slides |
| Lesson 6 | Reverse, Delayed & Flare Steps |
For those who complete Level 1 course above, are then able to progress to Level 2 which include harder concepts.
Of course we also encourage plenty of Bachata social dancing throughout a typical club night which is the best way to learn to lead and follow, to see what works and what can be improved.