Adult Dance Classes in Tunbridge Wells
Learn to Bachata
Join us every Thursday from 7pm at The Grey Lady in the Pantiles, Tunbridge Wells.
Open to anyone 18 years and over, you can learn to social dance Bachata Moderna in a structured way. We focus on accelerating your learning, whether you're an experienced Bachatatero(a) or just want to learn the latest dance craze.
Beginners are absolutely welcome and you do not need to bring a partner. Come and enjoy fun and friendly social dancing every week.
Our students typically travel to Royal Tunbridge Wells from the surrounding areas of Tonbridge, Pembury, Paddock Wood, Lamberhurst, Groombridge, Penshurst, Chiddingstone, Hildenborough and Crowborough.
What
Bachata Moderna Dance Classes & Social Dancing
Where
The Grey Lady Music Rooms in the Pantiles, Tunbridge Wells, Kent.
When
Every Thursday from 7pm to 11pm.
Bachata Fix @ The Grey Lady
Address
70-72 The Pantiles,
Tunbridge Wells
TN2 5TW
Contact the Venue
 Tel. 01892 544700
Website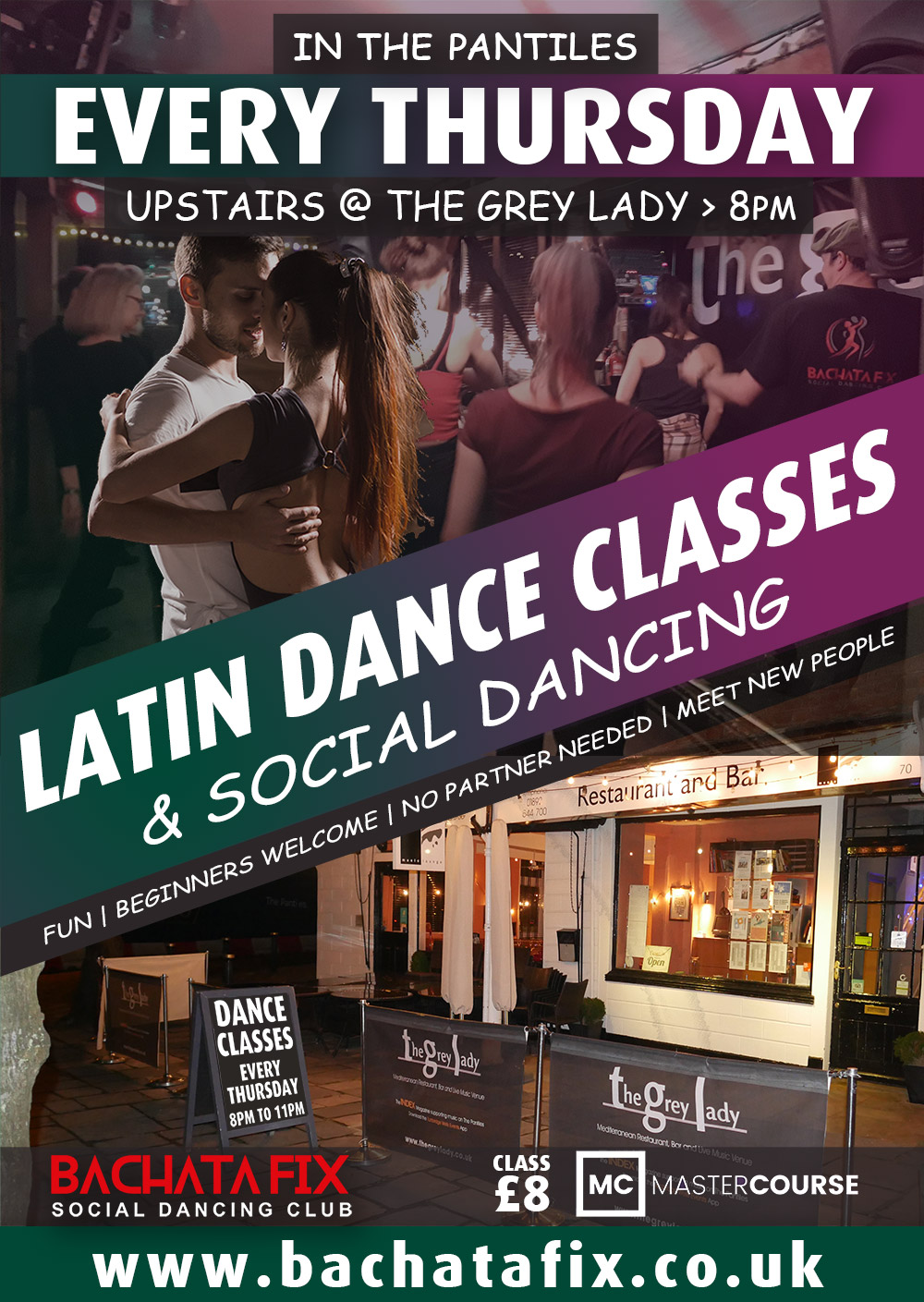 Bachata Fix's Lesson Structure
We have a unique lesson structure developed to accelerate your learning and understanding of Bachata Moderna.
Our weekly classes are structured to help people learn with Bachata moves broken down into levels and each lesson focuses on a single concept:
| | |
| --- | --- |
| Lesson 1 | Basic Steps & Hip Technique |
| Lesson 2 | Turn Patterns |
| Lesson 3 | Footwork Variations 1 |
| Lesson 4 | Footwork Variations 2 |
| Lesson 5 | Walk-Through Turns & Slides |
| Lesson 6 | Reverse, Delayed & Flare Steps |
For those who complete Level 1 course above, are then able to progress to Level 2 which include harder concepts.
Of course we also encourage plenty of Bachata social dancing throughout a typical club night which is the best way to learn to lead and follow, to see what works and what can be improved.
Format & Timings
7.00pm
Club opens
7.00pm to 8.00pm
Social dancing for all
Private lessons encouraged with teachers
8.00pm to 9.00pm
Group warm-up
Main group lessons with typically easier and harder level
9.00pm
Class ends
Opportunity to record lesson
9.00pm to 11.00pm
Social dancing and more
11.00pm
Club closes
Pricing
Classes £8 | Students £5 | Free social dancing after 9pm